A land of great craftsmen
Throughout the production the fundamental elements are technique and passion. Two things in which Italians are masters. A country that has made style and fashion its pride. All of this is clearly visible in our products. Accuracy and quality in every detail. From design to production, from printing to packaging.
Chamois
Our Chamois, or "Shammy" has the most support of any in the industry. With our engineered split design, our shammy absorbs the movement of your body (not around it) with the result of not having your shammy moving around and creating some saddle sore. Also, our shammy is the only one that adjust to today's new seats technology with either indentures on the seat or a opening in the middle. After a year of usage, our shammy will only lose 3 to 5% of their original support. We use PERFORMANCE SPACE pad for men, and ENDURANCE pad for women. For our basic range we use MARTE unisex pad. For triathlon a specific TRI pad unisex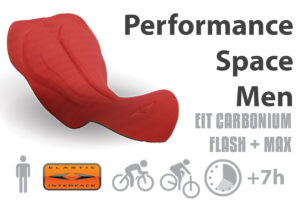 Specifics
Excellence for extra- long distance rides. Ultra-high density and multidirectional curvature structure delivers prefect fit and great stability in saddle. Performance space gives ischiatic support and guarantees perfect movement during rides.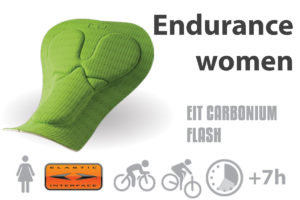 Specifics
Excellent pad for long distance rides. The "combination foam insert" provides to spread pressure in differents key points ( ischiatic and pelvic zone).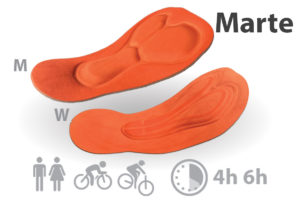 Specifics
It is a very comfortable and light pad. Soft, breathable and fast drying. The foam (density 80 kg / m3) settles on the support parts, leaving freedom of movement in the other areas.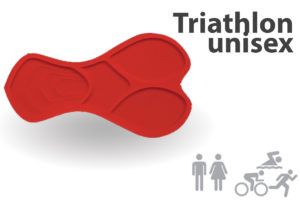 Specifics
Standard unisex triathlon pad. Designed to not hinder running and swimming but at the same time provide support during the ride.
Design
Our team of designers is made up of passionate artists. A right mix of technical experience and creativity. They will certainly find the right solution for you or surprise you with their artwork. The draft is presented with a realistic 3D simulation, with which you can appreciate the final effect and be sure to give the go ahead to the print.
Print
The press is undoubtedly our strong point. We are among the few to print in 8 colors. This means that we can reproduce all the colors you want. Modern machine, of the best brand, allows to obtain a deep and vivid color. The inks are certified and suitable for sports use.
Fabrics
Veneto Sportswear combines some of the industry's most advanced materials and technology to deliver the lightest and fastest drying materials available. Every garment that we make has been developed from the ground up by a team of dedicated designers with a deeply rooted passion for cycling and triathlon. We consider every aspect of design as important, which is why we invest in materials research, trim development, fresh construction techniques and pattern development to make sure every piece in our collection is not just designed for the specific user and riding conditions in mind, but is engineered and manufactured to deliver the ultimate performance that World Champions demand.
Our cycling kits use five different materials which makes us unique in our industry, with each serving a distinct purpose:
15% to 30% elasticity
Excellent UV protection for skin protection
Odor and bacterial resistant.
True compression materials on our bibs
The lightest, most aerodynamic, fastest drying materials in the industry, used by pros at the Giro, the Tour and Ironman
Our jersey's weight between 150 GR /5.3 OZ to 84GR 3.0 OZ
Ou bibs weight between 210 GR /5.71 OZ to 162GR 4.0 OZ
Production
The production is carried out in the traditional way, in order to constantly check the quality of the garment and the seams. We have many colored threads, so we can respect the design of the garment. The sewing machinery is high-end and capable of carrying out all the finishes required by the product. Inside the single garment you will find the quality certificates of the fabric and materials used.
Contact us
 Address:
 Telephone:
 E-mail:
 Please Call Mon – Sun: