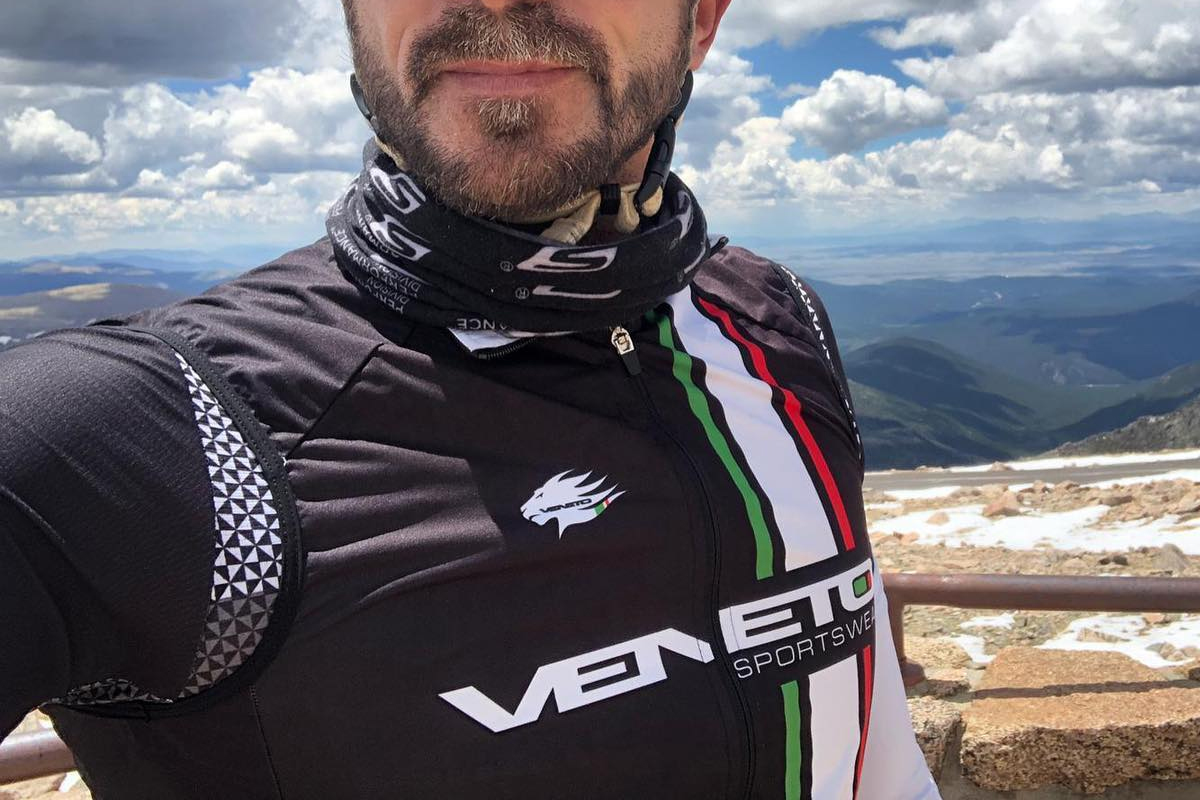 Veneto Custom Sportswear
Style without comfort has no function. Athletes know this. Because your clothing is as important as the sport you practice, Veneto brings four decades of fine sportswear to your experience. Whether you are an avid cyclist or a triathlete, our clothing will redefine your goals and enhance your achievement. We were born in the Dolomites, where cyclists test their endurance beyond the ordinary. Our sportswear represents precisely that concept. Because passion never changes. Veneto Sportswear represents the essence of Italian craftsmanship: design, technology and history from the heart of the cycling mecca. Designed and meticulously handmade in Italy, our products reflect our clear understanding of the apparel needs and stylistic preferences of North American and European cyclists and triathletes.
With more than 40 years of design expertise and commitment to quality, we offer a product line that delivers unparalleled comfort, performance and distinctive designs. Our passion for our products is an extension of our love for cycling and triathlons.
Our passion comes through in our pledge to bring you the best, most innovative, functional and feature-rich product at a reasonable budget. Our motto speaks of our commitment: "Made in Italy, handmade with passione." Each of our garments have been designed and developed by a select team of dedicated designers who have a driving passion for cycling and triathlon. In each step of our design process, the Veneto design team carefully attends to every aspect of the creation of our garment with the needs of customers foremost in mind. Along the way, we also make substantial investments in material research, testing, new construction techniques and unique design development with the goal of delivering the ultimate apparel to discriminating cyclists and triathlete worldwide.
The site of the Dolomites comprises a mountain range in the northern Italian Alps, numbering 18 peaks which rise to above 3,000 meters and cover 141,903 ha. It features some of the most beautiful mountain landscapes anywhere, with vertical walls,
The Dolomites (Italian: Dolomiti; Ladin: Dolomites; German: Dolomiten; Venetian: Dołomiti: Friulian: Dolomitis) are a mountain range located in northeastern Italy.
The Dolomites are without a doubt one of the great cycling areas in the Alps. Spectacular mountain passes and lush valleys create dramatic ascents and descents that make for exhilarating bicycling and sightseeing alike.
We are excited to bring this unique formula to cycling & triathlon customers and fans of Italian products, combining the sporting aspects of technology with the Italian lifestyle.